Home Painting Services in Melbourne
Welcome to Melbourne House Painters, a leading choice for high-quality painting services in Melbourne. Our residential house painters have the necessary experience and expertise to transform your home, making it stylish and comfortable. Over the years, we've carved a niche for ourselves by offering superior painting services for numerous residential projects. Our professional painters simply love their craft and strive to achieve the utmost perfection in all painting jobs they attend to.
Since our inception, we have won multiple awards and recognitions for our Melbourne painting services. We take great pride in being a family owned and operated business that works hard to change the lives of our clients by helping them achieve their dream homes.
The Melbourne House Painters Difference
At Melbourne House Painters, we believe that a home paint job that's done right can add more than just style – it can also add personality and soul, helping to enhance the beauty, ambiance and value of your home. Our painters in Melbourne are dedicated to providing services that will bring a smile to your face once you see the final result.
Our professional painters have also won many awards for our remarkable Melbourne painting services. Whether you need painters in Portsea to update the interior of your home with a fresh coat of paint, or a house painter in Camberwell to liven up an exterior, you can rely on our painters in Melbourne to meet your needs and exceed your expectations.
The complete list of painting services we offer to our clients includes:
Interior painting
Exterior painting
Wood-rot solutions, including weatherboard repairs
Plaster crack repairs
Window restoration
Colour consultation
Body corporate painting
All residential painting in general
Get in Touch with Our Painters in Melbourne Today
If you're dreaming of a freshly painted home that reflects your unique style and personality, what are you waiting for? Give our team a call today to learn more about Play Fortuna and our painting services in Melbourne and request a quick quote. Simply call us on 1800 TOP JOB (867 562) or send an email to  [email protected]
awards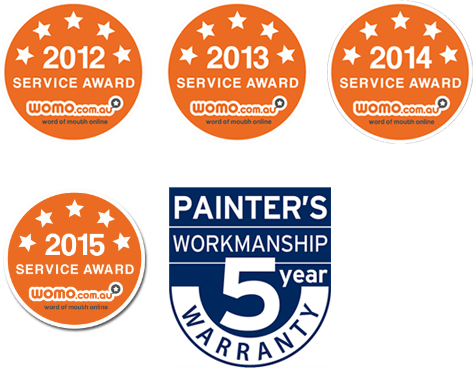 I approached Melbourne House Painters while they were painting a house in my street, I had an immediate quote and this was sent out that evening and that summed up the company. Prompt polite and professional, highly recommended! - Sally
Can't reccommend these guys enough - super friendly and professional. Answered all our questions and were happy to do so! They even turned up on time and completed the job when they said they would [how I wish all tradies did this!]. - Debbie H